Additional Information



WIRED MAGAZINE REVIEW:
---
"...despite its basic design and almost complete lack of fancifying,

it could be the most practical iPhone tripod mount we've seen.

There is no need for suction cups, permanently-attached stick-on adapters or even damage-inviting dock-connectors. You simply slip the iPhone in when you need to take a steady picture. Easy..."
---
Simply slide this bracket onto your iPhone3GS or iPhone4 (two different models) and you can mount it directly on a tripod or use it with our FlipCage™ to create a great tabletop stand.
---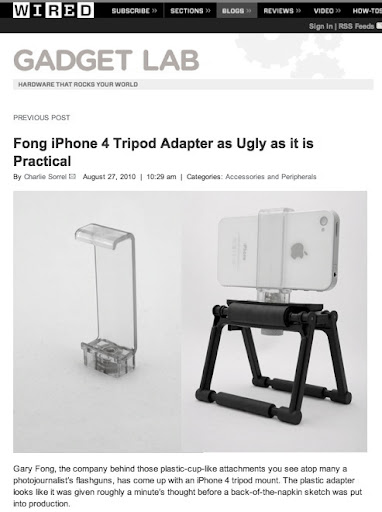 pictured below: attached to a Gary Fong FlipCage
(in vertical position)
---
Available in black only.

---